Illustrator CC Training & Official Certification Bundle
Submitted by seema on Wed, 2015-01-28 12:53
SKU: PL-67812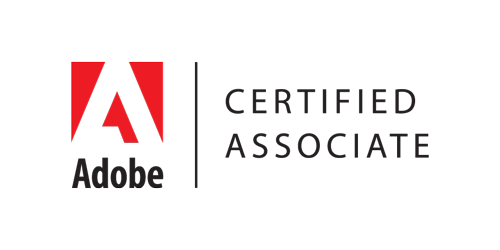 The Adobe Illustrator Training and Certification Bundle is the complete training solution to learn a specific Illustrator Creative Cloud (CC) 2018application and gain a globally recognised qualification from Adobe.  LearnKey Video Training for ACA is self-paced and flexible, with a personal instructor right on your desktop. LearnKey's course design and skilled instructors ensure candidates learn what is needed to achieve certification.
The eKit Includes:
 LearnKey Video Training
GMetrix

Practice Test Software

tests a student's preparation and exam readiness.
Illustrator CC 2018 LearnKey Video Training
The

Adobe Certified Associate Exam

empowers students with an internationally recognised qualification from Adobe. One Exam Voucher (12 month expiry) + Free Retake*
Adobe Certified Associate (ACA) certification demonstrates proficiency in Adobe's digital communication tools i.e. Creative Cloud (CC). ACA is a prerequisite qualification to succeed in the high demand areas of digital communication and media. It provides students and job-seekers with a valuable competitive edge.
More Information
For more information about the ACA certification and learning solutions, please click here or contact us.
Terms & Conditions
·         You must have a full install of Illustrator Creative Cloud (CC) 2018 and GMetrix SMS to use the practice tests included in the Learning Kit.
Exam Vouchers must be redeemed at a Certiport Authorized Testing Centre (CATC) in the UK.  Please consult our Test Centre Locator for your nearest CATC.
Exam Vouchers are not valid if altered or revised in any way and cannot be redeemed for cash, credit or refunds.
Exam Vouchers are valid for 12 months and cannot be extended under any circumstances.
Retake Voucher

The Retake Voucher is only valid for 30 days from the date of the original exam.
The Retake Voucher can only be used for the exam that was failed and only by the person whom originally failed the exam.
The Retake Voucher will appear in the test candidate's online profile within 24 hours.Exam administration fee is not included.

Test Centres may charge an Exam Administration ("Proctoring") Fee to candidates redeeming an Exam Voucher. Prodigy Learning's recommended Exam Administration Fee is £15 per Exam.